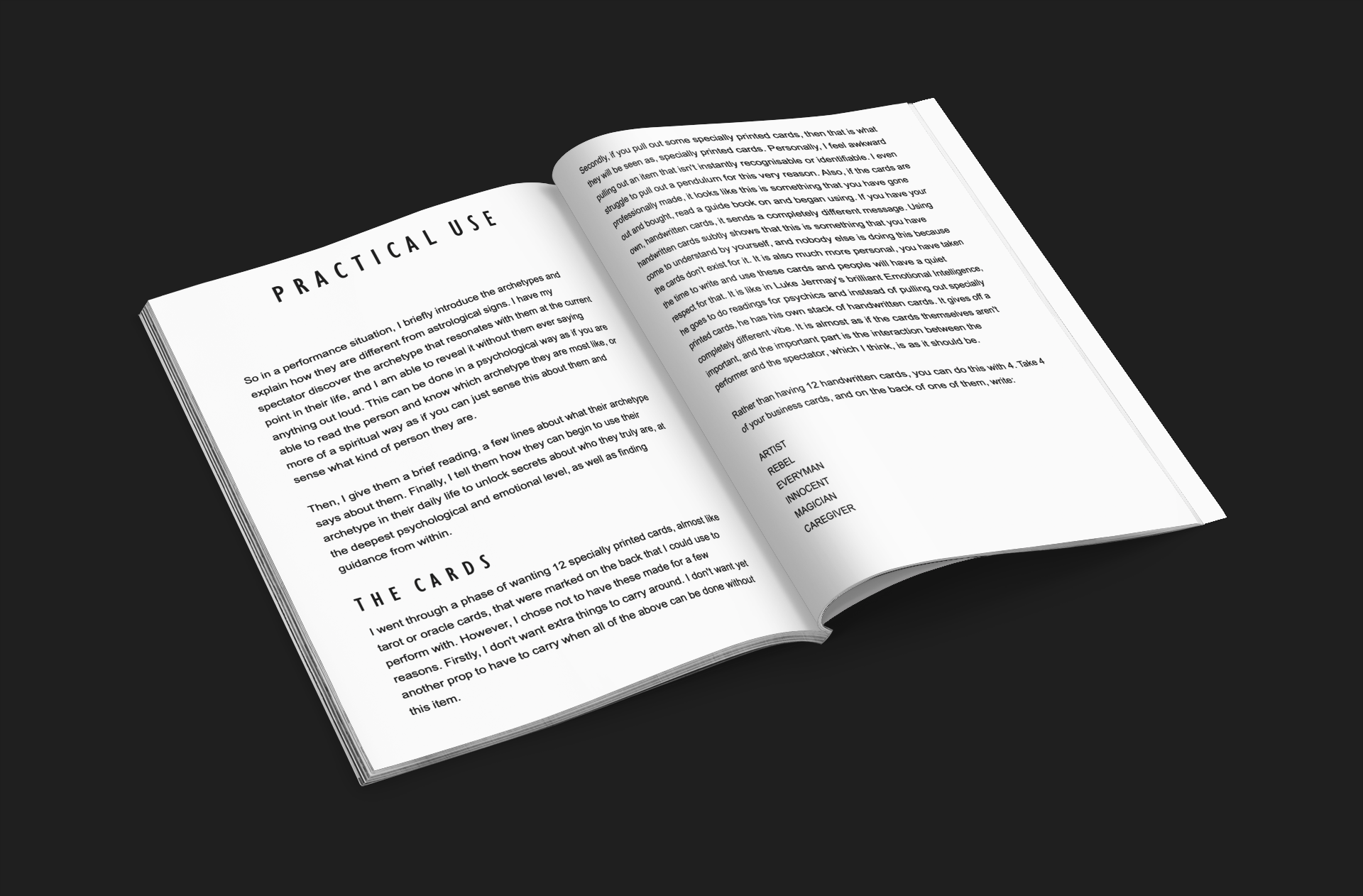 Archetype by Lewis Le Val (eBook)
Archetype centres around a solid psychological concept that is instantly engaging, easily adaptable and incredibly STRONG! 
Not only will you be able to know your spectator's thoughts and describe their personality, you will be leaving them with one of the most useful and inspiring psychological techniques that they will continue to use in their daily life for a very long time!
Archetype uses a number of ideas made popular by Swiss psychiatrist and psychotherapist, Carl Gustav Jung, that have been reworked and altered by

Lewis

Le

Val

to create a simple, modern and powerful piece of mentalism!
In Archetype, your spectator discovers one of twelve personality/character types buried deep within their psyche. This is instantly more engaging than Astrology. You are then able to reveal this character type, without your spectator ever saying anything, or writing anything down. After the reveal and a brief reading, you share something with them that they will remember forever, and it is THIS that will set you apart from every other mentalist!
Excerpt from the ebook:
"I briefly introduce the archetypes and explain how they are different from astrological signs. I have my spectator discover the archetype that resonates with them at the current point in their life, and I am able to reveal it without them ever saying anything out loud. This can be done with a psychological approach as if you are able to read the person and know which archetype they are most like, or more of a spiritual way as if you can just sense this about them and sense what kind of person they are. Then, I give them a brief reading, a few lines about what their archetype says about them. Finally, I tell them how they can begin to use their chosen archetype in their daily life to unlock secrets about who they truly are, on the deepest psychological and emotional level, as well as finding guidance from within." 
Immediately after this, you will discover the method. Simple, direct and works EVERY TIME. Archetype can also be instantly repeated, and can be performed with zero memorization.
The method of gaining the information is old and reliable. 
All you need to perform Archetype are 5 or less business cards that you write something on, that can be kept in your wallet, ready to perform anytime, anywhere.
This ebook provides you with everything you need to know to begin performing Archetype instantly, including a number of special subtleties and cleverly scripted lines to help you get the most out of this concept!
Say goodbye to Astrology signs, the Archetypes are here!
Archetype by Lewis Le Val (eBook)
Excellent psychological perspective
This manuscript is filled with truly great information. I feel that this routine really speaks to the heart of character readings. Many performers use various different character readings but this is based on non esoteric qualities. I firmly believe one of the strongest routines you could perform would be routines based in actual psychology. Many people may have issues with esoteric beliefs like runes, zodiac, etc. But most will agree with psychologically based material, which is exactly what this manuscript accomplishes. Archetypes allows for many people to base their reading on their jungian archetype. I really enjoy how this work is based on psychology rather than the zodiac/astrology, these readings are very strong and to the point. I also feel that Lewis has really cleared up a lot of the memory work required to truly give an impromptu reading that hits to the heart of the concern of the sitter/participant. Lewis also give us a 4 card version with a lot less memory work, rather than memorizing the qualities of the archetypes outright. This is a well thought out routine based on psychology.
Thanks for this routine very strong material
Yes!
Much more interesting than zodiac signs. Finally and author who thinks in a completely new and interesting way. I enjoy every release by Lewis.
Versatile. Impactful. Practical.
This is a well structured routine centered around the concept of Archetypes. The beauty of using Archetypes, as mentioned in the ad copy, is the alternative angles available when presenting such a concept, whether it be psychological, psychic, or perhaps even metaphysical or spiritual. Another wonderful thing is the simplicity of performing the routine; the information is delivered without suspicion and with little to no effort on the part of the performer. Everything is practical, congruent, and uses only a few business cards. While I was familiar with the different methods being applied (a concept previously explored by Boudreau, for one), the combination of principles applied by Le Val is very clever indeed (and somewhat easier to interpret than others' applications). There are lots of opportunities for byplay with this material and tons of fodder for interesting and unforgettable readings. Highly recommended!! - I am utlizing it with some Tarot work as my Tarot readings typically center around Archetypal constructs already. (see Rachel Pollack's 78 Degrees of Wisdom).