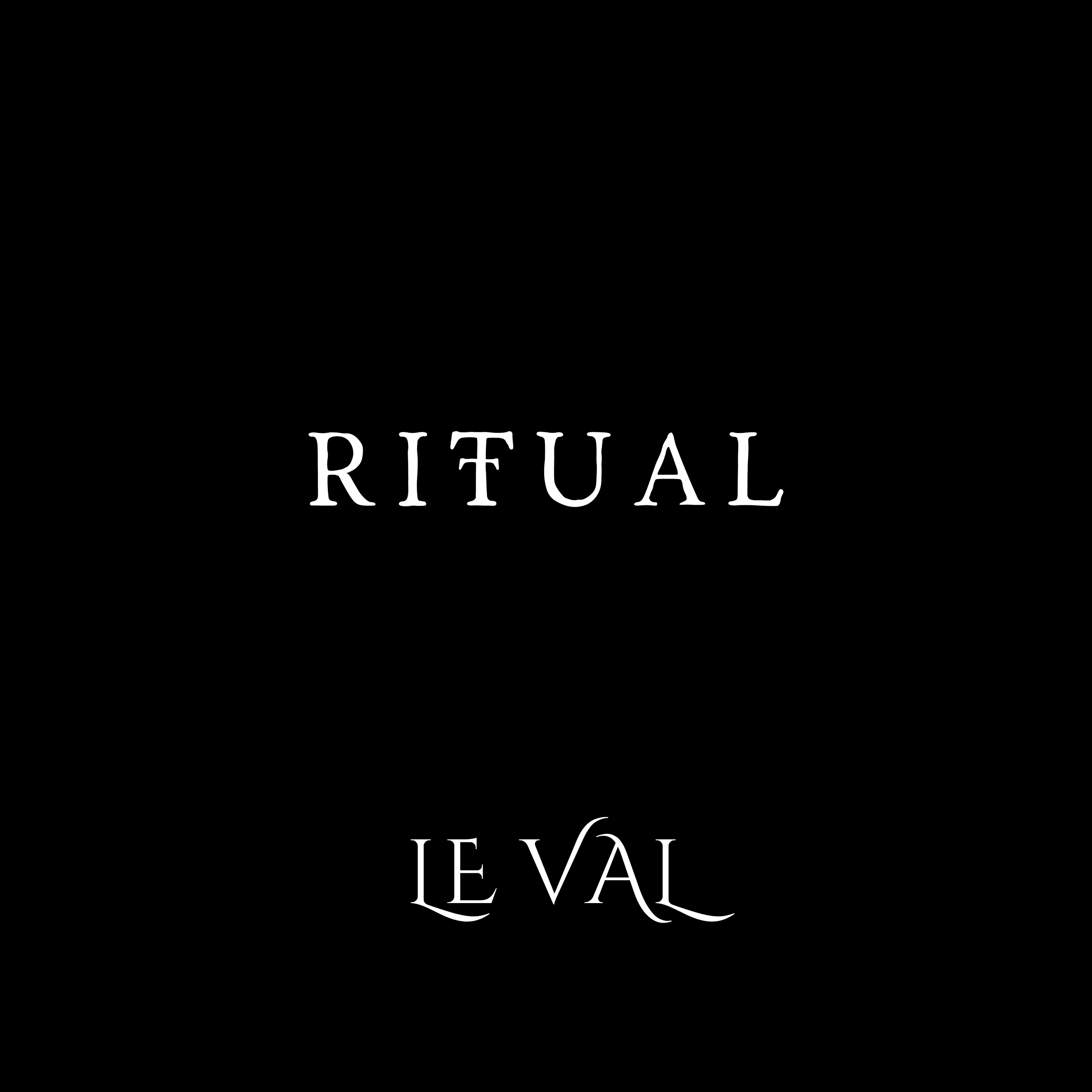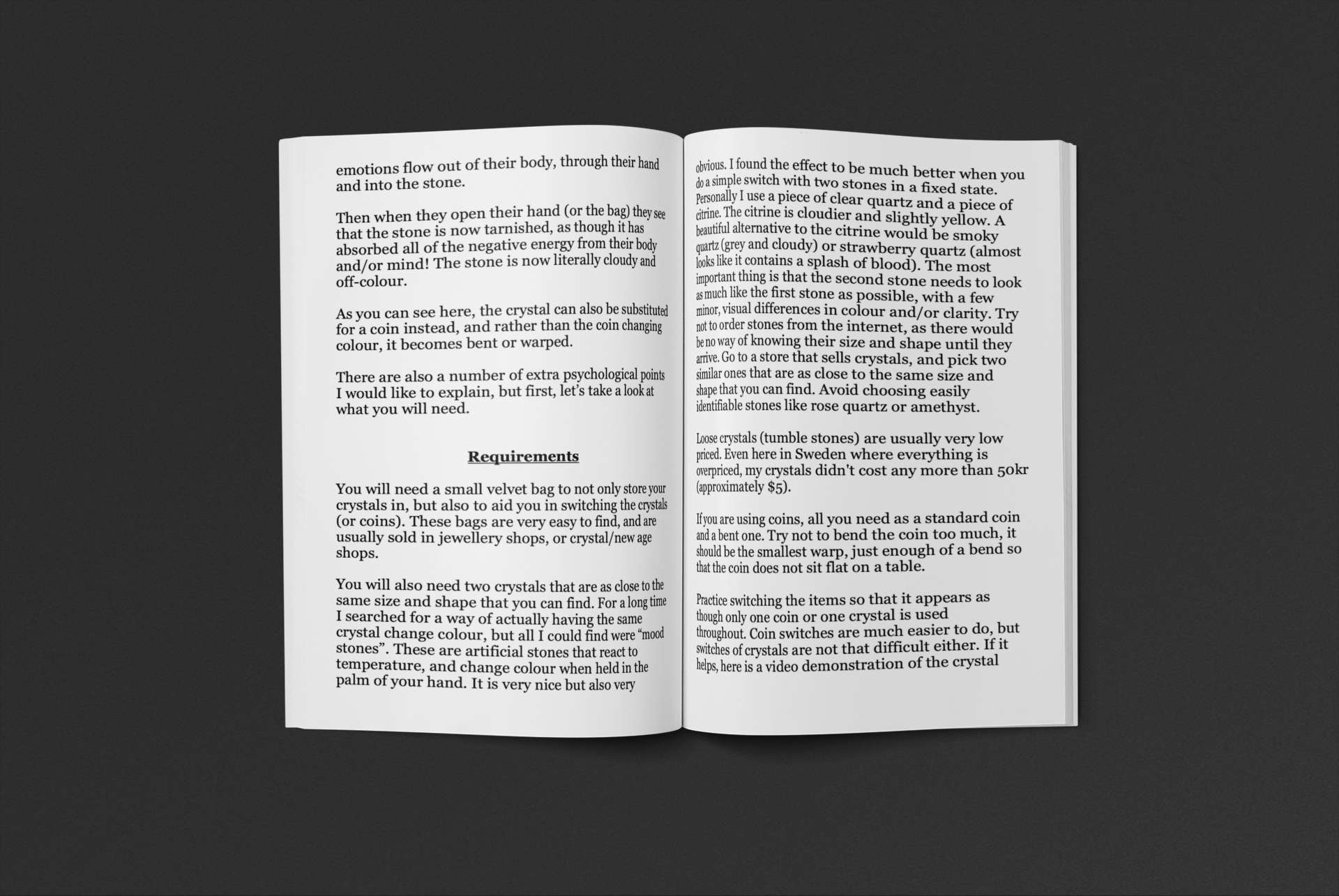 Ritual by Lewis Le Val (eBook)
Mentalism With Greater Purpose 
What if you suddenly found the ability to conduct real magic? 
What if you knew the secrets of the ancients, and could use genuine human connection for a greater purpose?
The secret sits within the pages of this book.
Ritual is a genuine performance piece, designed to invoke healing and positive transformation in the minds and lives of your spectators, whilst staying consistent with your current mentalism act and maintaining entertainment value.
Important points:
- Ritual is rooted in psychotherapy and psychology. It has stable foundations.
- It is safe, unobtrusive and easy to perform, without turning you into a pseudo-therapist. 
- The concept is fresh, engaging and creates an unforgettable experience.
The main physical prop is a simple piece of clear quartz crystal (which can be substituted for a coin, or other small object to better suit your performance style).
Ritual happens as follows:
You introduce a small crystal (or coin/other) and briefly explain the earliest form of self healing; a beautiful narrative which immediately captures attention.
After examining the crystal, your spectator holds it in their fist, or in a small, drawstring bag.
You then guide them through a 30-60 second visualization. The full script is LOADED with beautiful imagery and suggestion. Expect your spectator to actually FEEL their imagination and its effects on their body. Wonderful sensations emerge, and create harmony with their physical experience.
The Ritual is designed to allow your spectator to send all of the negative energies, thoughts and emotions out from their mind and body, and into the crystal they are holding.
When the Ritual is complete, a positive sensation washes over your spectator, and when they open their hand or the bag to look at the crystal, they will see that it is now CLOUDY and DISCOLORED, as if it has been tainted by absorbing the negative energy!
The best part is, this is not just for show! Your spectator will continue to enjoy the benefits of the Ritual, even long after your performance ends.
This is a bold step forwards for a mentalism performance, but definitely one you will be remembered by.
The routine itself is extremely easy to perform, and only requires one simple move, which is thoroughly explained, along with variations, in a video tutorial made specially for this book.
Don't like moves? Don't do them! In the 'extras' section of the book, Le Val discusses some extremely clever ideas that you could use. By eliminating one thing from the routine, you could make the Ritual even more powerful by making use of some simple but effective psychology.
At the risk of rambling, here are some more ideas Le Val shares in the book:
- How you could do this with a coin rather than a crystal.
- An opening script for a spiritual or shamanic style approach, and one for a more psychological, scientific approach.
- A "dirty trick" used by unethical psychiatrists and cult initiators (used here only with good intentions and ethics).
- Extra ideas of fascinating things you could do with a crystal, to avoid losing pocket space over a "one trick pony".
- The pendulum test. A useful tool that you can use before and after the Ritual to enhance the overall experience.
- Full scripts and explanations, including how you can avoid the appearance of failure in any suggestion you apply.
At just 23 pages, Le Val crams a lot into this project,
including a 10 minute instructional video.
This work is inspired by the works of Carl Jung, Milton Erickson, Alejandro Jodorowsky and Le Val's own techniques and observations gained from over ten years working with hypnosis.
Please note: No hypnotic skill or knowledge is required to perform the Ritual. This routine does not "mess" with people in any way, and can only invoke a positive, uplifting and mysterious experience.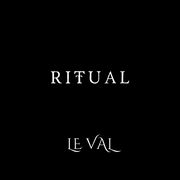 Ritual by Lewis Le Val (eBook)
A total gold mine
This is not just one effect it is also a way of looking at your work and the joy it can and will bring to people, Lewis helps to elevate our work from a nice puzzle to a profound piece of art. I am so glad I bought this.
Soul healing routine
Ritual is an extremely strong routine, that really does provide such a strong framework for what I would call transcendental mentalism. Lewis over the last several manuscripts really has come to a strong understanding of who he wants to be as a performer. He mentions in a past life his skills as a close up sleight of hand performer, and what he needed to get rid of as he moved into mentalism. However, one thing that is so strong about his creativity is that he finds routines and old methods used in sleight of hand. Which now allows him to create a strong justification for using the techniques from the mindset of a mentalist. Ritual doesn't disappoint in this area at all. While the techniques used are very basic for a close up performer. He uses mentalism to turn a sleight into a meaningful presentation that is healing and loving. In this manuscript he talks about how important rituals are in the growth and healing of people not only from a psychological perspective but also a spiritual one. Within this routine the performer ventures to help people get rid of negativity and have a better self image, and when performed correctly does just that. Thanks for this routine and your insights into how to really touch the hearts of our audiences.